Hey there! My name is Dawn and I've had the privilege of being involved with Making Mischief for two Dragon*Con Masquerade entries. In 2003 I was Holly's handler during the Where the Wild Things Are performance and in 2004 I was Janice in the Dr. Teeth & the Electric Mayhem group.

•

•

My background in costuming starts off like those of so many others' -- I have a Mom with fantastic sewing skills who always made me any costume I wanted for Halloween. My most cherished childhood costume was Princess Leia's white dress. I was the belle of my 2nd grade playground Halloween parade because my dress was the most accurate, replete with hairbuns made from my own hair! Yeah!

My Mom, who is finally fulfilling her seamstress dreams by working in the Sierra Repertory Theater's costume shop, taught me how to sew. Her attention to detail rubbed off on me. I was lucky to learn from her and fortunate enough later on to befriend Holly. Holly has become my biggest supporter in all my costuming endeavors. She has taught me that with a lot of perserverance and patience anything can be made. One thing is for sure, without her help Janice wouldn't have been possible! (Or had a hip guitar. Thanks girlie!)

As an adult who still loves to play dress-up, I have enjoyed the challenge of replicating designs from Star Wars, Moulin Rouge, LOTR... but I have to say that bringing Janice to life with all her Muppet cohorts was a special thrill!
Anyone who knows me well knows that my costuming obsession has been Padme Amidala's meadow picnic dress from Attack of the Clones.

As a small personal costuming victory I can say that after entering my first version of this costume at the Star Wars Celebration 2 costume contest, where I utterly lost out, I went back to work and made a much better version.

I entered my new dress in the Star Wars Celebration 3 costume pageant and came away with the first place prize in the Padme category. It was gratifying to know that I improved upon something I love.

But as much fun as it is to dress up and play, it's even more fun when you get a smile from a stranger. I will say that the best part of the Muppet experience, for me, was the crowd's reaction to us. It made me happy to know we had made other people happy, even if only for a few minutes of their time.
| | |
| --- | --- |
| | My sewing has recently been happily curbed with the birth of my son. He takes up my days (and nights) now with his constant desire to eat, play and chatter. But I will insist on finding the time to make his first costume for Halloween this year, thus continuing the tradition of being a mom who makes her kid cool costumes. :) |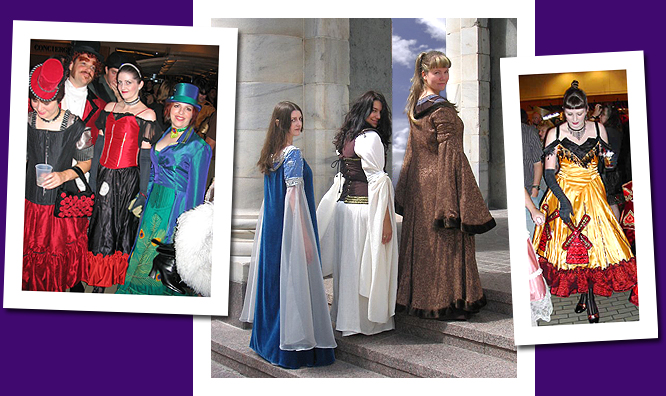 (photos courtesy of SisterSola and Maggie of the Padawan's Guide, and Photography Staff, DragonCon)


home | photos | clips
biographies for Holly | Brian | Tricia | Lisa | Thom | Heidi
links | contact us | old Making Of